Reading is fundamental and especially in times like these, people are turning books now more than never. With this in mind, our partner brand Brabbu created a new design e-book with inspirations from 20 interior designers from Modern-Classic Style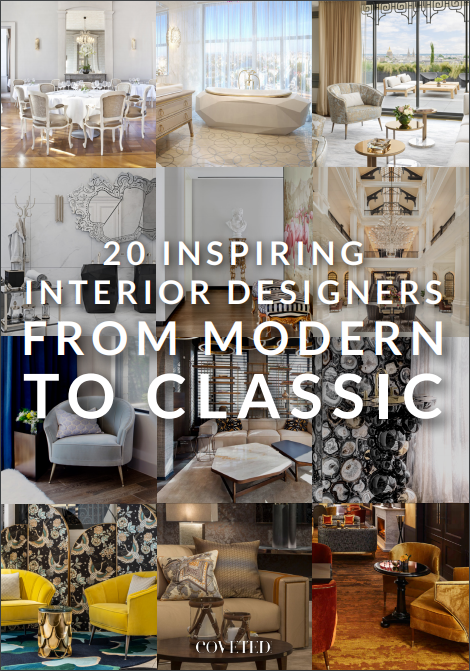 In this ebook, you will be able to find a fierce interior design. Fierceness is passion and intensity. It represents the wild and vigorous.
It is what drives many brands to create spectacular products and designers to produce stunning interiors.
Check Some of the Interior Designers and Projects You Can Find on the E-book!
Situated in the Italy countryside, there is a residential project by Diff Studio, where luxury meets the contemporary and the classic style. Maison Valentina makes this house even more luxurious, by making a statement in the bathroom area.
Diff Studio was founded by two young interior designers, Vitaliy Yurov and Iryna Dzhemesiuk, in 2015 in Kyiv, Ukraine, and since the it has enjoyed a massive success. Recently, they decided to expand their business and opened a new office in Paris, one of Europe's Design Capitals and where they currently have their main design opportunities!
Diamond Bathtub by Maison Valentina
The Domoff Group began its activities in 2001 as an architectural and design bureau and has been delivering stylish, comfortable and cosy design projects for the past decades.
Well-known in Russia for creating interiors of exceptionally high quality in the most prestigious places of the country and beyond, their projects show a combination of amazing aesthetics, convenience and a powerful sense of comfort in every square meter of the home
In this article we share with you three amazing bathroom projects designed by Domoff Interiors featuring Maison Valentina's products, true examples of functionality and extreme good taste.
Symphony Freestanding by Maison Valentina
Justyna Tatys is famous for creating luxury interior design projects filled with character and soul. Passionate about the ultimate luxury experience, the interior designer has created her own design studio. Although it features inspiring home staging services and offices design ideas, it is specialized in exquisite residential projects, such as bespoke apartments, houses and lofts.
From Justyna Tatys inspiring portfolio, one of the best interior design projects that became viral is the incredible suite specially designed for the ZŁOTA 44 Tower in Warsaw. With an open concept design between the exquisite bedroom and the luxury bathroom area, this incredible luxury design project was created to amaze anyone who is lucky enough to step in it!
Newton Bathtub by Maison Valentina
Do you like this post? Do you want to know more about luxury furniture brands and modern-classic style?  Let your comment below and share it on social media. Your feedback is essential to us. Don't forget to follow us on Facebook, Twitter and Pinterest.